Honor strictly follows an individually administered standard of releasing two flagship phones every generation. Though this does not include the China-exclusive Honor Magic devices. The company already launched the Honor View 20 months ago and is set to unveil its second premium phone for the year: The Honor 20. The Honor 20 has now been officially confirmed for a May 21 launch.
Rumors bring commendable camera news for Honor 20
The teaser image isn't a particularly impressive one. It depicts Tower Bridge in both day and night, obviously intended to portray the Honor 20's camera abilities. Rumors have it that Honor's 20 could share camera hardware with the Huawei P20 Pro and P30, which would make it a very capable camera device.
In fact, a while ago, word on the grapevine claimed that the device would earn a DxOMark score of 108. We're not even sure how that piece of information could be possible, because, in the event of that being true, we'd start to doubt DxOMark's objectivity. There's also the fact that no device of the company has been evaluated by DxOMark to date.
Illustrative Representation: User hype is affected after accepting the reality
The teaser image does clarify that the images shown are for illustration purposes only. In other words, they weren't shot with the phone itself. Obviously.
Honor 20 Release Date: Basic Math has never been so interesting
There's no date shown explicitly on the teaser since the company appears to want its fans to do some math. The launch date is listed as "444+4*4*4+(4+4)/4+44/4". The answer to that is 521, which is all we need to know that the devices will be launched on May 21.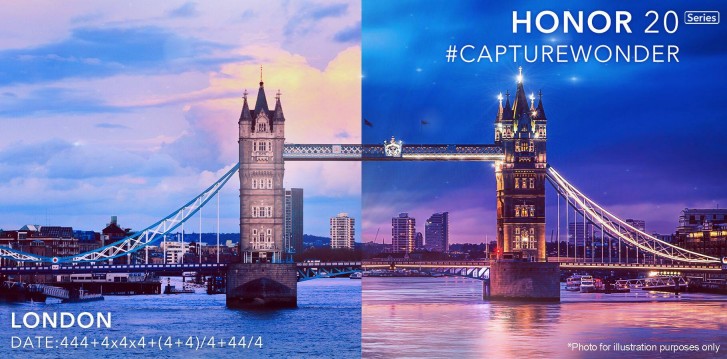 Speculations all around
We're not sure what the "4" theme alludes to, though? We expect the Honor 20 to feature three rear cameras. Adding a single selfie camera to that setup makes for a grand total of four cameras on the device.